Hospice News Voices Article – Drew Bringhurst of Hospice Dynamix
March 14, 2023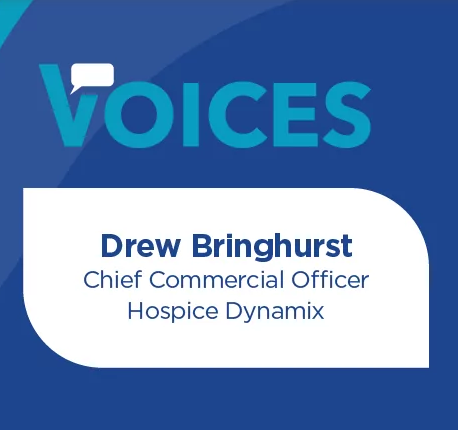 This article is sponsored by Hospice Dynamix. In this Voices interview, Hospice News sits down with Drew Bringhurst, Chief Commercial Officer, Hospice Dynamix, to learn how hospice leaders can better serve their patients and organizations by leveraging AI technology. He explains how machine learning technology can assist leaders with easing financial and operational pressures while maintaining compliance and quality outcomes, and he also talks about how technology can mitigate one of the greatest threats to a hospice organization's value — non-compliance.
Hospice News: What career experiences do you most draw from, in your role today?
Drew Bringhurst: My diverse career background has enabled me to confidently and enthusiastically acclimate to new industry scenarios — the last ten years of which have been in health care. Most recently, I served as the Chief Administrative Officer for the hospice division of Hospice Dynamix, where I witnessed firsthand the vast opportunities to automate hospice business and care processes to increase efficiency.
Over the years, I've recognized how integral each team member is to an organization's accomplishments, and if everyone truly believes in the same core values, success is inevitable. This principle is the foundation of the Hospice Dynamix team today.
As former hospice owners and operators, what motivated your team to start the development of AI hospice-specific software?
After just a couple of years in business, we recognized the overwhelming need for automation in the financial and operational areas of the hospice business. There was not yet a platform that could automate a Medicare cap calculation, and there wasn't a means to quickly identify patients that would inevitably be subject to external audits. In fact, there wasn't even a way to benchmark referral sources or the quality of their admissions through the perspective of a time-on-service prediction.
We saw a dire need to quickly collect data, investigate it and identify opportunities to increase efficiency, allowing hospice leaders to ultimately focus their attention on enhancing patient care. Our original leadership team, predominately comprised of CPAs, joined forces with various disciplined hospice experts and AI data scientists to create the first decision-intelligence software that designates a dynamic time-on-service prediction for every patient upon admission.
By accurately generating predictive patient outcome analytics, Hospice Dynamix is able to leverage this data to automate multiple financial and operational functions, allowing hospice leaders to maximize their time analyzing data rather than creating it.
How can leaders use AI technology to better serve their patients or their organizations, and what historically manual processes can Hospice Dynamix automate to increase efficiency?
Hospices can leverage a variety of powerful AI tools to improve efficiency — tools like natural language processing, which automatically extracts patient medical record information to improve the accuracy and timeliness of patient assessments. Additionally, providers can add to their toolkit for a compounded effect, like using Predictive analytics, for example, to then process that information to help staff identify patients at high risk of readmission, discharge or complications. This allows staff to make targeted interventions to manipulate outcomes, benchmark the behavior of referral sources, and automate administrative tasks, freeing their time to focus on patient care.
Hospice Dynamix software enables the automation of those manual tasks, deploying structured and unstructured machine-learning technology to designate a dynamic, time-on-service prediction for every patient upon admission. As such, we created an interactive dashboard that focuses on the automation of three critical areas within a hospice organization.
First, our software automates the calculation of a Medicare cap projection for every open cap year, which has historically been done with a spreadsheet. Second, it makes an assessment of referral sources based on the quality of each admission, made possible by time-on-service predictions designated to every referral source for each admission. And third, it empowers organizations to immediately identify patients that are most vulnerable to an external survey so their care teams can develop a more strategic and targeted internal audit ahead of time to ensure that patient records are fully compliant.
The dashboard also provides a powerful tool for analyzing the appropriateness of care for each individual case to make the greatest impact on outcomes and ultimately, the bottom line.
With predictive analytics being reasonably new to the hospice industry, what factors of hesitancy have you observed among hospice leaders?
First, the term "artificial intelligence" is thrown around very loosely, and while it's easy to explain what the software delivers, it's quite challenging to explain how it was built to produce such an extensive depth of data.
Second, many providers experience resistance to change because altering longstanding processes and workflows by implementing predictive analytics can be disruptive.
Third, hospice leaders may have a "fear of the unknown," driven by the misconception that internal, technical expertise or resources are required to implement and maintain the technology.
And finally, most organizations experience a heightened sense of data vulnerability as they explore new technology in today's digital-first landscape, In the world we live in, a software provider must ensure the highest level of data privacy, security and compliance, which is at the core of everything we do.
Given the ongoing budget struggles and staffing issues within the hospice industry, how can machine learning technology assist leaders with easing those pressures, and maintaining compliance and quality outcomes?
Maintaining staffing needs while meeting budget thresholds is a prominent industry issue today, and machine learning technology can aid in two areas: time and resources. Maximizing the automation of manual processes allows organizations to reallocate their time and resources toward an effective recruiting and staffing strategy, which ultimately results in better patient care.
Machine learning technology gives an unprecedented view of patient information and organizational behavior, and it provides an incredible lens for the proper coordination of care and documentation of these patients. Utilizing machine learning tools will significantly assist with compliance, quality of care and organizational performance.
What is the greatest threat to a hospice organization's value, that can be mitigated by leveraging technology?
One of the greatest threats that can be mitigated by leveraging technology is the risk of non-compliance with regulatory and accreditation standards. Now more than ever, organizations are subject to very strict regulations and oversight from various government agencies and accrediting bodies. Non-compliance can result in significant revenue recoupments that damage the organization's financial performance.
Machine learning technology and predictive analytics, specifically, will mitigate the risk by providing tools for identifying current and future compliance risks upon admission. It can achieve this by accelerating the identification of opportunities to maximize financial and operational efficiencies.
Finish this sentence: "The hospice industry in 2023 will be the year of…"
…adopting machine learning, artificial intelligence and automation technologies.
Follow our linked-In for more Hospice Dynamix Updates: Hospice Dynamix: Overview | LinkedIn
To see the original article on Hospice News, click here: Voices: Drew Bringhurst, Chief Commercial Officer, Hospice Dynamix – Hospice News